The Diva Marketing Blog Approach To Blog Strategy GO »
Looking for a presentation or workshop on blogs, eMarketing, marketing for non marketers? GO »
Subscribe by RSS

Subscribe by Email
Free Social Media eBook
by Toby
Over 25,000 downloads
and counting!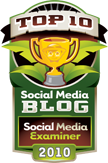 For Susan
08/27/2009
Sus - Thank you for the gifts you gave and continue to give.
Cupcake from Life in a peanut shell.
Trackbacks
Trackback url:

https://www.typepad.com/services/trackback/6a00d83451b4b169e20120a5267103970b
Comments
She would be so proud of your adventures, and the trails you've blazed
Posted by: Polli on Aug 27, 2009 8:27:49 PM
thanks auntie polli! susan would also love that you continue to be so important to jess and scott and me. we get on with what we have to do but i guess the ache continues for a lifetime.
Posted by:
Toby
on Aug 28, 2009 9:38:43 AM
The comments to this entry are closed.