The Diva Marketing Blog Approach To Blog Strategy GO »
Looking for a presentation or workshop on blogs, eMarketing, marketing for non marketers? GO »
Subscribe by RSS

Subscribe by Email
Free Social Media eBook
by Toby
Over 25,000 downloads
and counting!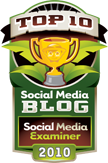 The Blog Trinity
02/23/2005
Honesty. Transparency. Passion.
Trackbacks
Trackback url:

https://www.typepad.com/services/trackback/6a00d83451b4b169e200d83457cb8369e2
» Bloggers' Trinity or Mantra? from View from the Isle - Professional Blogging & Blog Consulting

Toby posted a simple three word post today--
Diva Marketing- The Blog Trinity
. I've already written more. And with the simp...
[Read More]
Tracked on Feb 23, 2005 11:14:48 PM
Comments
Amen, sister.
Posted by:
Bren
on Feb 24, 2005 1:17:43 AM
true, i'm glad to see your updating more often :-)

Posted by:
Alex
on Feb 24, 2005 10:56:00 AM
...and it's the blogosphere that helps keep us honest. thanks for the encouragement alex!
Posted by:
Toby
on Feb 24, 2005 10:59:01 AM
The comments to this entry are closed.